The next step in the construction process is to fit the bodice. The Princess used pink thread to trace with basting all the stitching lines. Below is one of the sleeves with the stitching lines basted on.
This next picture below shows a closeup of how the basting lines run to the edge. Do not turn corners.
After The Princess basted in all the stitching lines, I used dark thread to baste the bodice together. It is important to remember to use the stitching line. So the dark thread is being sewn over the pink. Here is most of the bodice put together. The sleeves aren't on just yet, and the corners are clipped for fitting ease.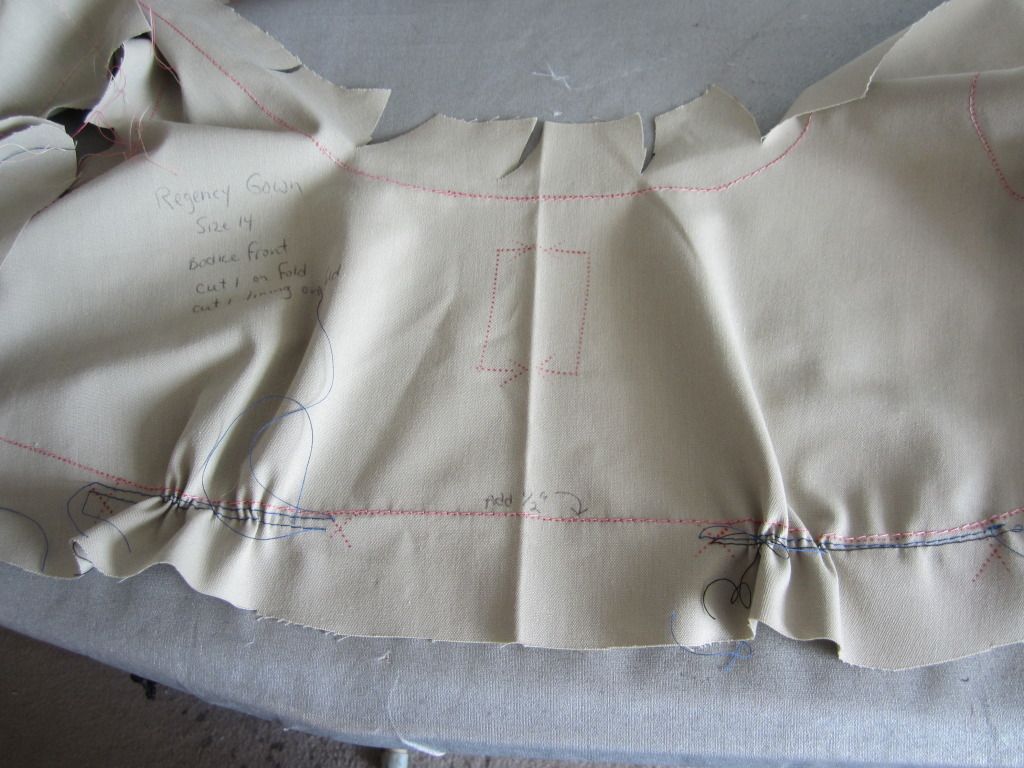 You can see a few of my notations. So far there are a few minor adjustments. The neckline hits perfectly, but the bottom is a smidge to high - so we will be adding 1/2" to the bottom edge to lengthen it. That is an easy fix. The armholes aren't quite right, so before I add the sleeve in, I will be dropping the bottom of the armhole about 1/2" as well. Hopefully that will fix the problem of tightness there. We also discovered that the proper underpinnings will definitely be needed. So now I am off to order those. Here is a link.
Regency Underthings
. And since I was ordering an item anyway ~ why not order two? So I added the jacket to complete the ensemble.
Regency Spencer/Pelisse